This 1930s suit came to me by way of the Antiques Garage in Chelsea, a giant market in, accurately enough, a garage on W 25th Street. Though its full name is the Antiques Garage Flea Market, I really hesitate to bill it as a flea market; this is the first thing I've ever found there that was a deal, let alone a steal. It's definitely worth a visit, but be prepared for the vibe to be a little less convivial than you may expect for a flea market.
In any case, I was thrilled to find this suit in the stall of a very nice woman who used to wear it herself in the 80s, funnily enough a decade more known for its reproduction of vintage silhouettes than the popularization of the actual garments themselves. Since then, the suit fell into some disrepair, unbeknownst to the seller-- I had that awful vintage collector's moment of having to point out numerous flaws in a garment she'd thought was still in great condition. Really hate that. The jacket was so gorgeous, though, and had almost entirely been spared the damage done to the skirt, so I bought it hoping I could just patch up the skirt. It's not the first time I took on a fixer-upper, but I'd learned my lesson about what I can and can't repair. I'm pretty happy with the results, and even happier it was so warm when I wore it out to meet friends in Brooklyn a few weeks ago.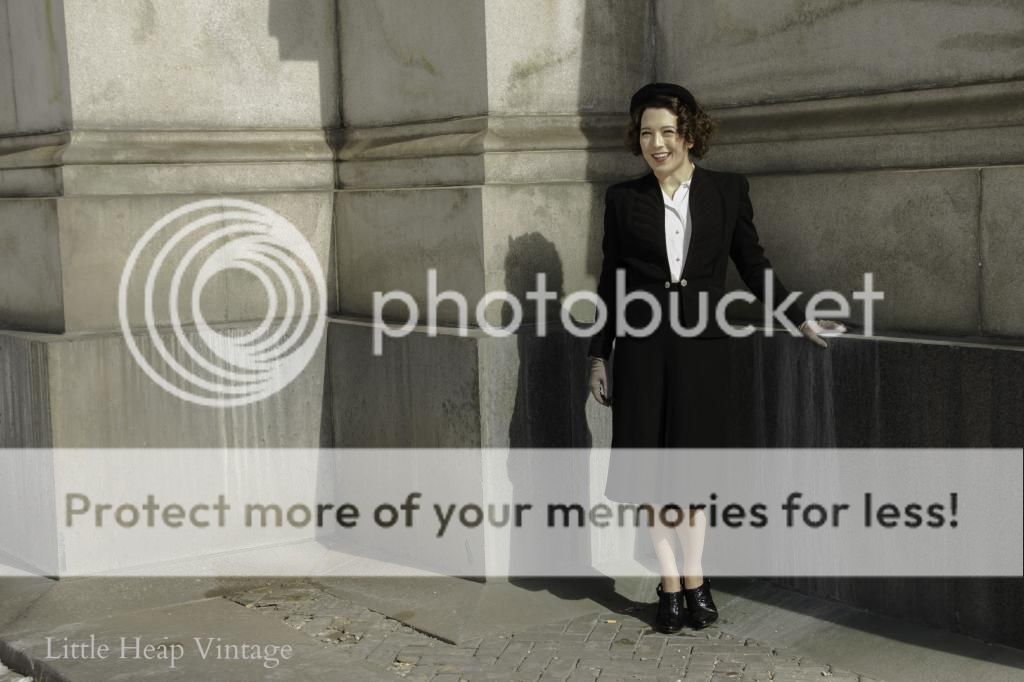 A photographer friend of mine was nice enough to take photos of me, the suit, and the entrance of Grand Army Plaza in Prospect Park. It's a really beautiful monument.
Photo courtesy of NYC Parks
The detailing in the jacket is really what sold me on the suit. The shoulder pads give it that really sleek V silhouette, and the embroidery along the front, almost in a sort of leaf pattern, is just gorgeous. The metal closure (I learned the name for this at the FIT 1930s exhibit, and then promptly forgot it--anyone know?) is original, and gives it that added luxe feel while wearing it.
Another detail worth mentioning? The fantastic embroidered tag. The fact that the suit came from New York only makes me love it more.
I think the design in the mirror is the number 10; I haven't researched yet to see what that's about!




I've been dying for a piece from the 1930s--I have one other that I need to repair before I can wear it without risking further damage--and this find was beyond what I'd hoped for.
"V"-shaped silhouette
The skirt's construction is still pretty sturdy, with two clasps at the waist, and I love the inverted pleat at the front. The suit on the whole feels like something I can wear full-on vintage, as shown, or that I could modernize for a job interview. (I think the idea of what a vintage woman could wear to an interview is a blog entry on its own; I wouldn't want to falsely advertise on the one hand, but on the other, I always wonder if I'm taken seriously enough when I wear vintage. Future post brewing.)
On the way to brunch, we walked past a wall of graffiti, and actually loved the juxtaposition of old and new it provided. I was kind of at the end of my ability to pose for photos, though, so uh, most of the ones I took might belong in a "bloopers from photo shoots" reel.
Back in Baltimore I got these really fantastic veils, one of which you can see here. I'm not sold on the way it photographs--it has a clustered, textured detail throughout that I think looks a little odd in photos--but thought I'd post it regardless.
I really love how elegant I feel in this suit--what garment makes you feel like a million bucks? Or a piece you love that just won't photograph?
Photos courtesy of Tristan Nash.