At the final stop of the A train, on the very edge of Manhattan, a mirrored mosaic greets comers and goers. Depending on your perspective, it either says, "At the start... At long last...," or, "At long last... At the start..."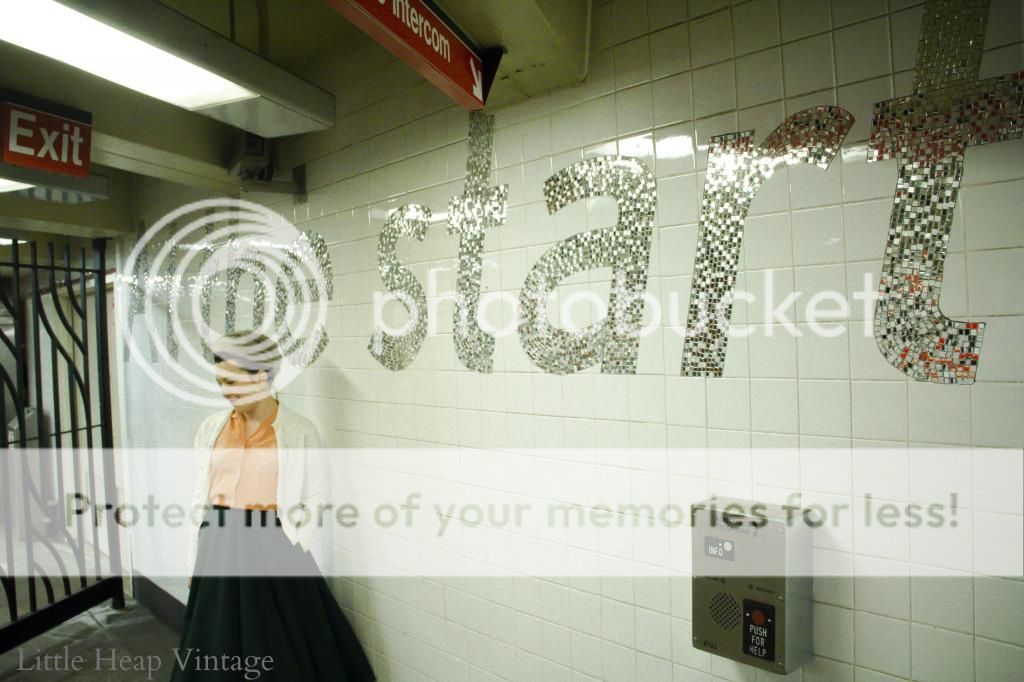 I'd seen the mosaic a few times on my way to and from visiting a friend up in Inwood, and though I have one last set of photos from the city to post later this month, I thought this art installation would be the perfect spot for my last shoot in New York, as it embraces the new possibilities and uncertainty I'm heading towards. I've already talked about the tough spots of the last year-plus, so I want to emphasize how ready I am for something new. Leaving New York for the spring and summer feels like a chance to breathe freely for a little while, to try some new things, and to come back in the fall, hopefully, with some new direction. I've really liked living in New York, by and large, and I'm excited to come back with fresh eyes. But for now, I'm at the start, at long last; at long last, at the start.
I'm not sure if you know this, but a petticoat + circle skirt makes twirling required. Like, they'll take your petticoat away if you don't twirl. True story.
Petticoat by Doris Designs; skirt made by me!
The old-fashioned "Next Train" sign to travel downtown.
Stay tuned for the upcoming adventures I can't (but have to!) wait to tell you about. It's going to be fun!
Artwork by

Sheila Levrant de Bretteville; photos by Tristan Nash.