Just in time for the Kentucky Derby, a vintage ad for Four Roses Bourbon! This ad, from the July 1944 issue of Cosmo I shared last week, includes a simple recipe for a classic summer bourbon drink: a mint julep.
Four Roses is a really terrific bourbon that's been around for over 125 years. What's cool about this ad, though, is that Four Roses Straight Bourbon stopped being offered in the U.S. not long after it ran in this magazine. In 1943, Seagrams had purchased the brand, and despite its popularity, the company pulled its straight bourbon from the U.S. from the 1950s to the early 2000s, shifting their marketing efforts to Europe and Asia. During those years, the brand's reputation sank, and it languished as a rail whiskey. Thankfully, in 2002 the Kirin Brewery Company bought Four Roses, and made an honest whiskey of it.
Check out the recipe after the jump!
I first came across Four Roses on a bourbon run, when my favorite bourbon, Makers 46, was unavailable. I asked for a recommendation, and as the store owner pointed out a couple options, he told me an older lady had come into the store and seen the Four Roses bourbon. She was surprised to see it available, and said that when she got married in the 1930s, she and her husband gave out bottles as wedding favors. I was sold.
Now, I'm a bourbon-lovin' girl, and I usually prefer to sip bourbon straight. But after seeing this ad, I decided to give the mint julep a try-- and I'm glad I did.
So, now for the recipe!
"Here's all you have to do to achieve this frosty midsummer triumph...
Take a few sprigs of fresh, tender young mint.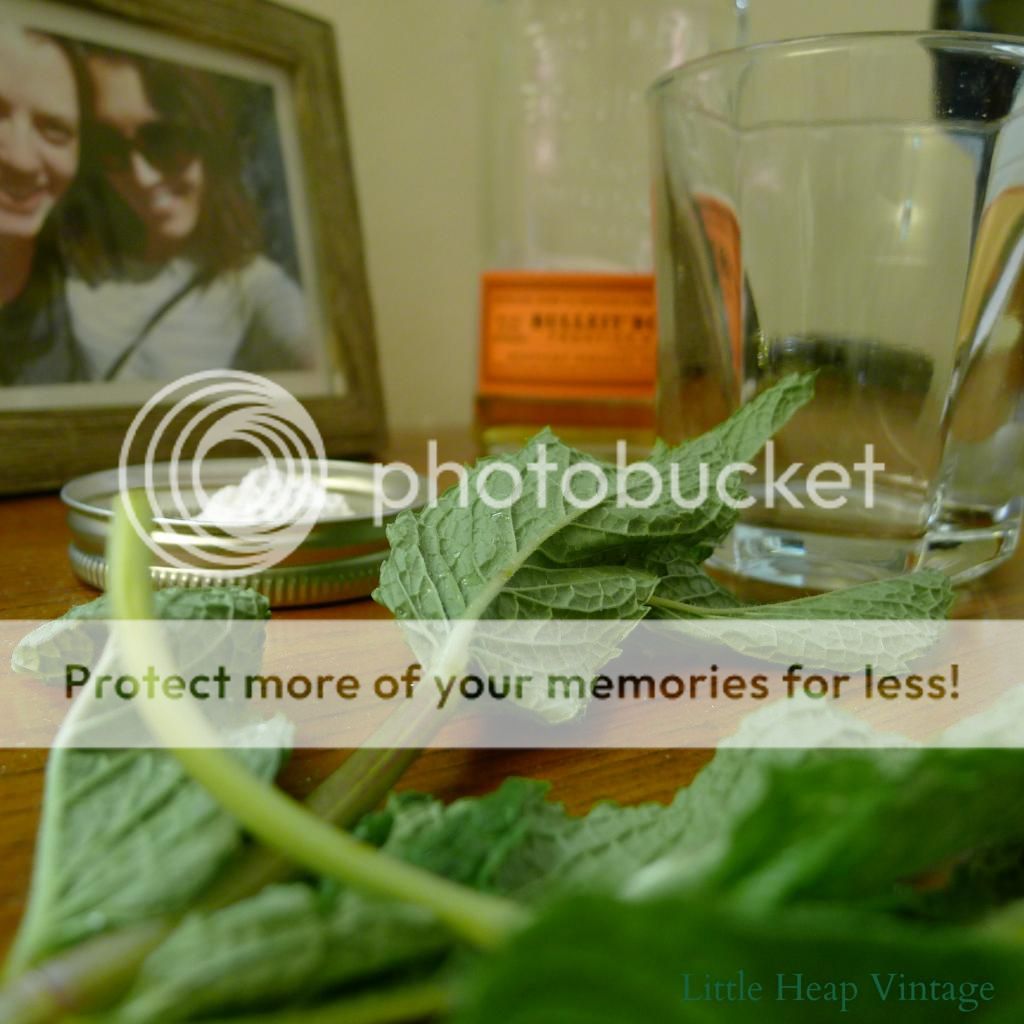 Cover with powdered sugar and enough water to dissolve sugar.
Crush the mint (or just stir it, if you prefer). Place the mixture in bottom of tall glass and fill with shaved ice. Then pour in Four Roses until the glass is brimming. Garnish with mint and let stand until the frost forms thick.
Mmmmmm.
Some recipes I've seen call for granulated sugar, or simple syrup, and I suspect this is why I was initially suspicious of mint juleps. Too sweet. The powdered sugar here makes all the difference-- it's simple. I stirred the mint rather than crushing it, and I did make a couple alterations-- I use one giant block of ice rather than shaved ice, to prevent premature melting, a small glass versus a tall, and I didn't fill it to brimming, because I value my liver.
As you can see, I unfortunately didn't have Four Roses on hand. I used Bulleit instead, and it turned out really well, partly because I'm not too sweet on straight Bulleit. For sipping over rocks, I really prefer Makers or Four Roses Small Batch.
But regardless of what brand you use, the mint julep's a perfect spring & summer drink for all you bourbon-lovers out there-- enjoy one today while you watch the derby! Fascinator optional.